JOIN OVER 14,000 SUPPORTERS
Stay up to date on news, events, fundraisers, giveaways, and special offers.
Bourbon Giving 2023 is underway October 31-November 28, 2023!
Giving season has arrived! The Bourbon Giving fundraiser is our final fundraiser of the year so let's make it a BIG one! 100% of all money raised will support Dayton Children's Hospital, Lurie Children's Hospital, and Dare to Care Food Bank.
Your support is appreciated so that we can continue to help those that are most in need through our shared love of whiskey.
Click the button below to see all of the amazing prizes and more information about the important work of each organization. ⬇️
Take me to the fundraiser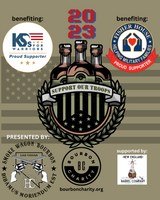 Support Our Troops raises $16,370
The Support Our Troops sweepstakes PRESENTED BY SMOKE WAGON WHISKEY was a great success raising $16,370 for K9s For Warriors and Fisher House Foundation. Each organization will receive a grant of $8,185 to further their missions of supporting veterans and their families.
2023 Support Our Troops Winners Announced
Congratulations to our prize winners! Thank you to everyone that contributed to this fundraiser.
Father's Day Bingo Nights raises $9,000
Mother's Day Fundraiser Raises $21,000
Thank you for your Support!
The 2023 Brackets for Bourbon fundraiser raised $13,130 for our charity partner Harvest Hands.
Thank you to all that participated!
Meet Our 2023 charity partners!
What our Charities Say About Us
At Fisher House, we consider it an honor to serve our military and veterans and their families, and we depend on the generous American public to be a part of the solution.  Bourbon Charity makes our mission possible by finding an innovative way to connect passion for making a difference with our heroes and their loved ones.

Megan Wynn, Manager, Corporate and Foundation Relations
charity: water is extremely excited and thankful for the amazing support from Bourbon Charity. With your incredible donation and support we are able to bring access to clean and safe drinking water to more people around the world on our journey to end the global water crisis.

Tim Stratton, Brand Partnerships Senior Associate
We met Bourbon Charity because they were inspired to help and honor one family, but their impact has reached so much farther. We're grateful for their passion to raise awareness and contributions that are helping us achieve our goals: fund critical research for neurofibromatosis so that one day, we can End NF.

Allison Cote, Development Manager, Children's Tumor Foundation
Boys & Girls Clubs of Metro Phoenix appreciates the continued support from Bourbon Charity. Every individual, non-profit and business, carefully selects the organization that they feel makes a community impact. Our organization is truly grateful for the support we are given year after year.

Jill Johnson, Director of Strategic Partnerships
Bourbon Charity has truly enriched and expanded the NF Community by supporting the NF Camp program. We are forever grateful. NF Camp is more than a place, it is a community. Every year we grow the NF Community and create a youth support system with the NF Camp program. Thank you Bourbon Charity for joining us in our mission and making this possible!

Julie Nassisi, Sr. Manager, Development - Youth
100% Non-Profit Charity
In just two years, the generosity of Bourbon Hood members have helped us achieve our goal of becoming a 100% non-profit charity. This amazing accomplishment ensures that 100% of all the proceeds from our fundraisers go directly to the charities we support.
Come and be part of this passionate group of monthly givers!
Join Bourbon Hood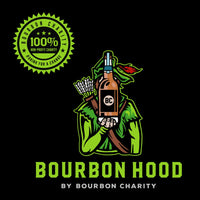 Our Story
At age 60 my "Pops" was diagnosed with prostate cancer and around the same time I learned my high school friend's daughter had multiple brain tumors. 
With an inspiration to make a difference, I donated my bourbon collection to start Bourbon Charity. We are a 501(c)(3) non-profit organization of over 20,000 supporters that raise money for dozens of charities and causes.
We host five Bourbon Fundraising events throughout the year as well as several virtual bourbon bingo events featuring rare and allocated Whiskey. Our community of supporters are passionate about combining Charity with Bourbon to #drinkforachange!
Shop Bourbon Charity Merchandise
Donate with confidence
Gold Seal from Candid & Guidestar
Bourbon Charity has achieved the Gold seal of transparency from charity evaluation organization Candid & Guidestar.org. You can give with confidence, knowing that your donations are used in a responsible and meaningful way to help our supported charities every year.